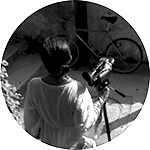 Creative, multi-faceted, efficient and flexible. Trilingual (French, English, Spanish), specialized in the creation of multimedia content such as video, text, sound and photography.
Communicating/networking her favourite part, she has great experience in digital communication especially in culture, art, tourism, lifestyle, events, corporate, and a deep knowledge of the private as well as the voluntary sector. 
She can work alone, in a team or build one through the network of competent professionals with whom she has worked for many years such as :

Zindine Aksa has more than 30 years of experience in graphic design and visual identity. He is also a teacher in graphic arts. He is a creative person who puts himself at the service of the structures within which he works to offer them the perfect design.